Font Size :
Community Health Development Project AMA DAY @2018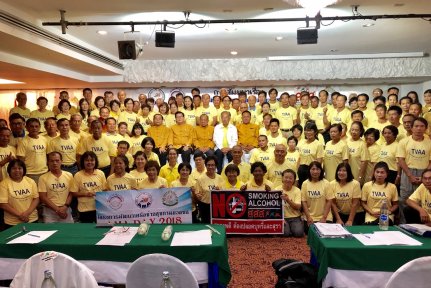 Thai Veteran Athletics Association (TVAA), Thai Health Promotion Foundation and Lampang Province Sports Association jointly staged a seminar on Community Health Development in celebration of 2018 Asia Masters Athletics (AMA) Day in Lampang province, north of Thailand, on July 21-22.
The seminar discussed topics such as:
1. What are the benefits for the elderly in taking up sports?
2. How to prepare exercises for the elderly people?
3. How to deal with, sports injuries and the right kind of nutrition?
TVAA President Mr Viwat Vigrantanoros, who is also the president of AMA, spoke on the benefits the elderly receive if they take up a sports activity. Assistant Professor Permsak Suriyachan, who is the technical committee chairman of TVAA, talked about the right way to practise track and field events and how an individual should choose his or her event.
The most interesting topic in the two-day seminar was the "talk on sports injury and treatment", which was delivered by Doctor Siripoj Sribunditkul, Deputy Director of Department of Quality System Development and Research, Nakhonping Hospital, Chiang Mai. Dr Siripoj is also a member of the medical team that oversees the Thai national squad.
A total of 138 master athletes from the Northern provinces of Thailand namely Chiang Mai, Chiang Rai, Lamphun, Nan, Phrae, Uttaradit and Lampang participated in this seminar, which was declared open by Lampang Province Sports Association President Mr Pairoj Lohsunthorn.
"I believe that you have fully benefited from the topics discussed in this two-day seminar. I know that the topic on sports injury and treatment has attracted a lot of interest from all participants. Unfortunately we had only two days to conduct this seminar. The period is not enough to talk on the topic in depth. However, I fully believe that you have gained a lot of knowledge concerning injuries in sports and its treatment. I hope that you all will make use of it after you return home. I will try to bring this kind of seminar to this part of the country again in the future. I must thank Lampang Province Sports Association President Mr Pairoj for the generous support extended to us," said Mr Viwat in his closing remarks.
AMA, which was established in 1981 in Singapore, started commemorating its founding day with competitions. The inaugural edition was held in Kuala Lumpur,