Font Size :
AMA TECHNICAL COURSE 2018

ASIA MASTERS ATHLETICS
TECHNICAL COURSE 2018
REPORT
22 – 25 NOVEMBER 2018
SAHATI HOTEL,
JAKARTA, INDONESIA
ORGANISERS
ASIA MASTERS ATHLETICS
WITH THE COOPERATION OF
INDONESIA MASTERS ATHLETIC ASSOCIATION
INTRODUCTION
Asia Masters Athletics Technical Course was held from 22 – 25 November 2018, at Sahati Hotel, South Jakarta, Indonesia. The course was organised by AMA with the cooperation of Indonesia Masters Athletic Association.
The Objectives of the AMA Technical Course are:
- to provide an understanding on the history of World Masters Athletics (WMA), Asia Masters Athletics (AMA) and the formation of I.G.A.L.
- to provide the information on the Asia Masters Athletics management including its vision, mission, purposes and Constitution
- to give input on WMA Competition Rules and the differences between IAAF Rules and WMA Rules
- to give input on Race Walk rules and Judging Race Walking competitions, and
- to give input on WMA Records and WMA Championships Record
PARTICIPANTS
26 participants who are qualified IAAF Technical Officials, including International Technical Official (ITO), Officials who have officiated in the Beijing Olympics, in the WMA Championships, Regional and National Masters Athletics Championships attended this course. Out of the 26 participants, 11 of them were women. The participants came from the followings countries:
CHINA HONG KONG
INDIA INDONESIA
MALAYSIA SINGAPORE
THAILAND
TOPICS
The following topics were covered during the 3 days course:
1. Introduction to course – the purposes & objectives (Merari Nainggolan)
2. History of World Masters Athletics (WMA) (S. Sivapragasam)
3. History of Asia Masters Athletics (AMA) (S. Sivapragasam )
4. Constitution and Management of AMA (S. Sivapragasam )
5. Race Walk Judging (S. Govindaraju )
6. WMA Competition Rules (Kalaivalli R. Ratnam)
7. Differences between IAAF & WMA Technical Rules (Kalaivalli R. Ratnam)
8. WMA and WMA Championships Records (Kalaivalli R. Ratnam)
LECTURERS
1. MS KALAIVALLI R. RATNAM ( MALAYSIA )
M. Ed (Health Education), Uni. Manchester, UK
MMAA Technical Advisor
21st Asia Masters Athletics Championships (AMAC) Deputy Director
Attended IAAF Women's Coaching Course in Jakarta
Retired senior Health & Physical Education lecturer
2. MR. S. GOVINDARAJU ( SINGAPORE )
Qualified Lawyer
IAAF Qualified Race Walk Judge
Singapore Masters Athletics Council Member
3. MR. S. SIVAPRAGASAM ( MALAYSIA )
AMA General Secretary
Malaysian Masters Athletic Association (MMAA) President
IAAF qualified coach (East Germany University)
21st AMAC Director Retired Deputy Head Master
4. MR. MERARI NAINGGOLAN ( INDONESIA)
AMA Vice President (Stadia)
Indonesia Masters Athletic Association Secretary
AMA Technical Course Coordinator Diving Instructor
5. MR. A. KANNAN ( SINGAPORE )
AMA Technical Committee Chairman
SMA Secretary
AMA Technical Course Coordinator
Former South East Asia Games Bronze medal winner
PARTICIPANTS LIST
1. CHINATAMBY SUPPIAH - MALAYSIA
2. JIANG YANYANG - P. R. OF CHINA
3. S. GOVINDARAJOO - MALAYSIA
4. CHEN LEI - P. R. CHINA
5. LI GUOQING - P. R. CHINA
6. SIN PAK KO - HONG KONG
7. RAMAN GANESAN - MALAYSIA
8. TEEN SUK MAN - MALAYSIA
9. SENTHAMARAI SELVEE - MALAYSIA
10. MAZANA BT CHE WIL - MALAYSIA
11. LIM TZE YAW - MALAYSIA
12. JOSEPHINE KANG TEOK K. - MALAYSIA
13. SIMPSON MARTIN - SINGAPORE
14. YUSOFF KHAN ISMAIL K. - SINGAPORE
15. MANONMANI K. - INDIA
16. KUMUTHA N. - INDIA
17. SIVAGAMI B. - INDIA
18. PIDAKALA ANAND BABU - INDIA
19. SIRIPONG GUMTHIRA - THAILAND
20. PANITA PIMSAKUL - THAILAND
21. BUDIHARDJO - INDONESIA
22. FREDERICK HUMA - INDONESIA
23. LINDA RACHMAN - INDONESIA
24. MOCHAMAD HARIANTO - INDONESIA
25. MUSASHI SAGARA - INDONESIA
26. REBECCA YULIAN - INDONESIA
Among the participants, there were International Technical Official (Mr. S. Chinatamby-Malaysia); IAAF Walk Judge; IAAF Level 1 and Level 2 Officials; who have officiated in the Olympics, Commonwealth Games, WMA Championships and many other international championships. All of them have experience in officiating at International, Regional and National level Athletics Championships as well as Masters Athletics Championships. Some of them have more that 40 years of experience in the field of athletics. It was good to note that, with so much experience in athletics they are willing to learn about masters' athletics. The participants age range from 28 years to 72 years. This goes to show that masters' athletics not only attract senior people but also young officials who want to know and get involved in masters' athletics.
ACCOMMODATION & FOOD
Accommodation at Sahati Hotel for 3 / 4 nights and 5 meals per day was arranged for all participants, lecturers and secretariat . Two T shirts, course kit and Certificate of Participation were given to all. The Fee for each participants was only USD200.
OPENING & CLOSING
The AMA Technical Course Opening Ceremony was officiated by Mr. S. Sivapragasam, AMA General Secretary on behalf of the AMA President. The Certificates were presented by Mr. Merari Nainggolan, Vice President (Stadia) AMA, cum the Course Coordinator during the Closing Ceremony.
EXAMINATION
A short written Examination with 50 multiple choice and True/False questions, was conducted at the end of the course to evaluate how much the participants gain from this course. All of them passed the exam, though seven of them got very low marks.
GENERAL
The AMA Technical Course was conducted very well; all the arrangements were made systematically, the secretariat members were at the venue throughout day and night to attend to all participants. The lectures were conducted very professionally by speakers who are well versed in their fields.
EVALUATION OF THE COURSE
At the end of the course, the participants were requested to write their comments on the course: Strengths, Weaknesses and Suggestions for Improvement.
All of them have more comments on strengths and a few weaknesses:
Among the comments by participants are:
- We learn a lot about WMA & AMA; the statistics given were very good
- We have good lectures
- Good & experienced faculty who gave good and knowledgeable lecturers with typical example and live illustrations
- Should conduct this course to athletes as well as officials every year
- All teachers have good quality
- Must give more notes and materials
- Lecturing is good and easy understanding
- Good preparation course
- Sometimes the room was hot and PA system not working well sometimes.
- All course materials should be given 2 days before the course
- The course was easy and enjoyable. The teacher is very serious and humorous.
- The course was too short
- The presentation by lecturer very interesting and effective
- We want training again once in a year. We want to meet again.
- All lecturers are very good and I'm very happy and enjoy the course
- Good to communicate with the people from other cities; good accommodation & food
- Organise the course regularly & announce the course schedule earlier
- More workshops on Race walking, track & field competition rules would be appreciated
- This type of courses must be organised periodically
The above comments show that, the input of this course is good and effective. AMA feels that the knowledge gained in this course have certainly enlighten the officials on Masters' Athletics and the history of how masters movement began to be popular. All of the participants suggested that the course should be conducted regularly to all parties concerned.
It is interesting to note that out of the twenty six (26) participants, 42.3 % (11) of them were women. This clearly shows that the effort taken and activities carried out by AMA specially for women, is motivating more and more women to participate in masters' activities.
THANK YOU
AMA would like to thank all participants, secretariat, Indonesia Masters Athletic Association, for making this course a success. AMA will take up the suggestion to have more of this type of courses/seminar in the future for the benefit of AMA Members.
AMA TECHNICAL COURSE PARTICIPANTS
INTRODUCTION BY MR. MERARI NAINGGOLAN (INDONESIA)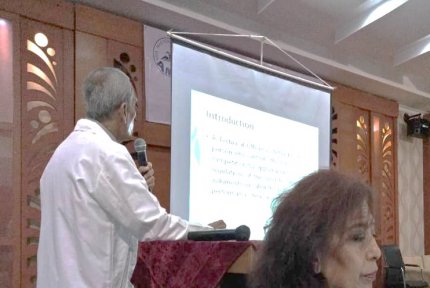 LECTURE BY MR. S. GOVINDARAJU (SINGAPORE)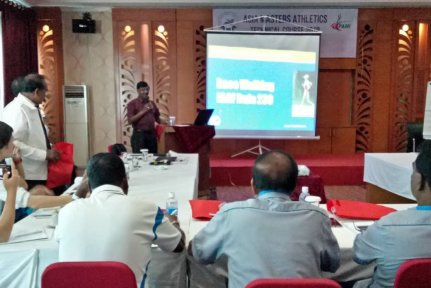 LECTURE BY MR. S. SIVAPRAGASAM
(MALAYSIA)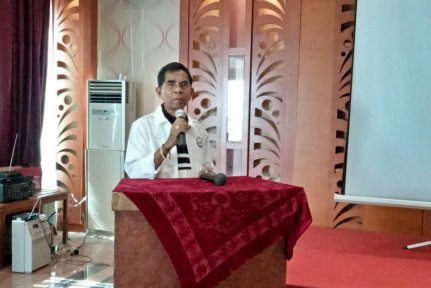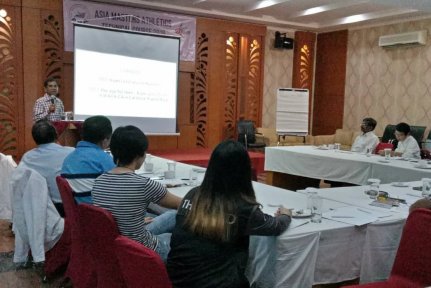 LECTURE BY MS KALAIVALLI R. RATNAM (MALAYSIA)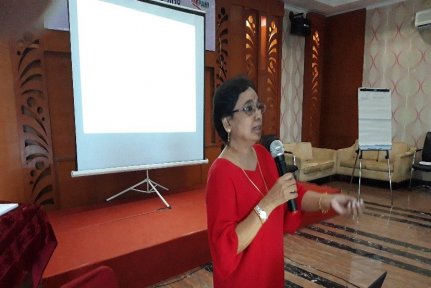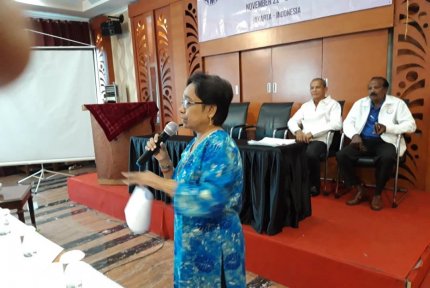 PARTICIPANTS DURING THE COURSE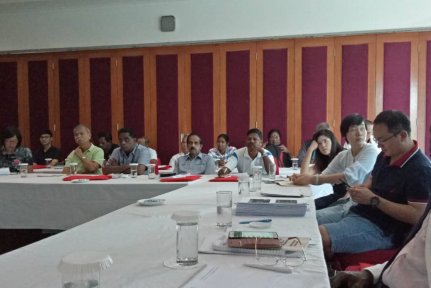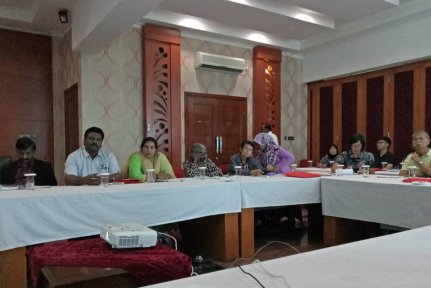 PARTICIPANTS RECEIVING CERTIFICATE OF ATTENDANCE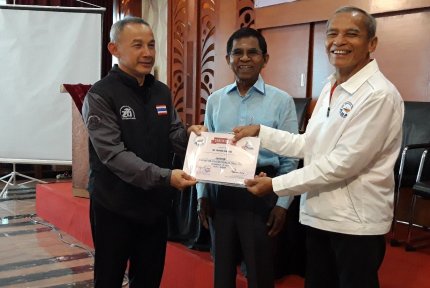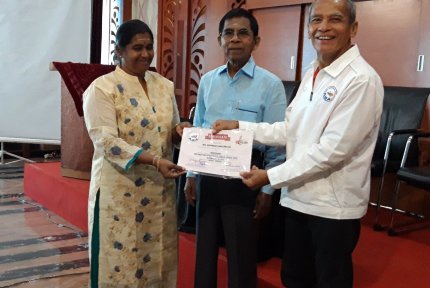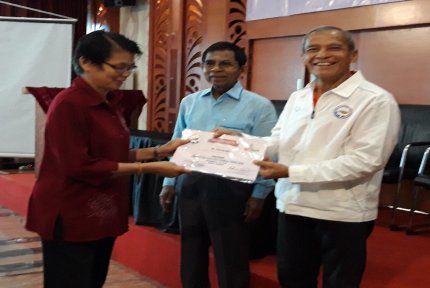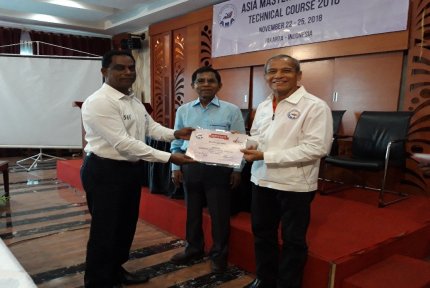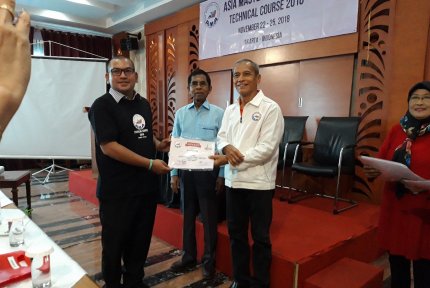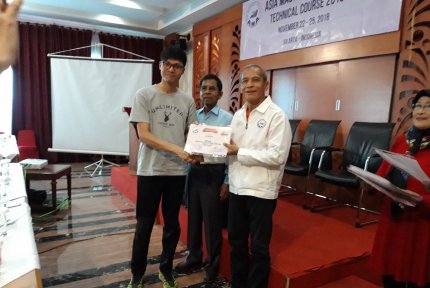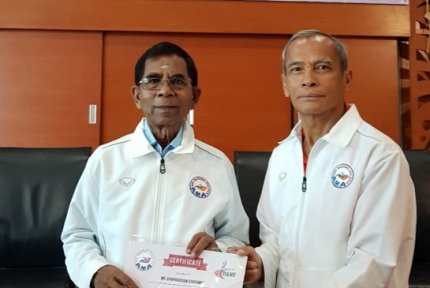 PARTICIPANTS AFTER THE PRESENTATION OF CERTIFICATES